Website # 1 for rental properties in Veliko Tarnovo. Residential, Holiday & Commercial properties to rent.
Nov 26, 2020 23:00
Adventure center in Belogradchik offers pleasant emotions and adrenaline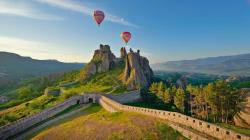 Development of regional tourism stands behind the idea of opening an adventure center in Belogradchik. And despite the fact it is brand new, it already has a rich arsenal of entertainment to offer. "One week in the most beautiful place in Bulgaria is not enough - one day you can fly a balloon over the Belogradchik rocks, the next you can try horseback riding, or shoot at the multimedia shooting range with an authentic pistol or rifle," says Eftim Stefanov, executive director of the Agency for Regional Development and Business Center - Vidin, which is at the core of the project. Tourists can also taste over 50 regional wines, take an off-road trip by jeep or mountain electric bike, sail a boat in Rabishko Lake or on the Danube.
Source:
bnr.bg
Monday, Aug 10, 2020